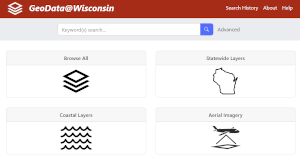 GeoData@Wisconsin
This resource enables discovery and access of Wisconsin geospatial data, imagery, and scanned maps. The Coastal Collection provides access to over 1,200 geospatial datasets with relevance to the Lake Superior and Lake Michigan coasts of Wisconsin.


Wisconsin State Cartographers Office and Robinson Map Library, UW-Madison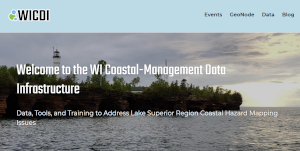 Wisconsin Coastal-Management Data Infrastructure (WICDI)
This resource provides a collaborative support environment for a Community of Practice focused on drainage culvert inventories, hydrologic models and flood hazard planning.
Wisconsin Coastal Management Program, Wisconsin Department of Administration and the Wisconsin State Cartographers Office
Access WICDI
Catalog Resources
Search this collection of coastal data resources relevant to Wisconsin and the Great Lakes region.