Wisconsin Beach Health
This tool helps people make informed choices about health risks when deciding to go swimming at the beach. Water quality sampling is provided for public beaches on the Great Lakes and inland waters.
Wisconsin Department of Natural Resources

Wisconsin Manure Management Advisory System
This tool provides a set of maps that help farmers who apply manure as a nutrient source to identify suitable cropland areas and times for spreading.
Wisconsin Department of Agriculture, Trade and Consumer Protection

Sea Caves Watch
This tool provides photos and data about conditions at the sea caves on the mainland of the Apostle Islands National Lakeshore. It is intended to help kayakers make informed decisions about visiting the sea caves.
Department of Civil and Environmental Engineering, UW-Madison
Plan Integration for Resilience Scorecard
This tool provides a method for understanding and assessing the consistency of local plans through spatial analysis as a way to improve community resilience.
Texas A&M University
University of North Carolina-Chapel Hill

Resilient Great Lakes Coast Program
The Resilient Great Lakes Coast program is a multi-disciplinary research initiative meant to help coastal communities across the states bordering the Great Lakes to enhance their resilience to coastal flooding.
University of Michigan – Taubman College of Architecture & Urban Planning
Michigan Technological University – Great Lakes Research Center
Land Information Access Association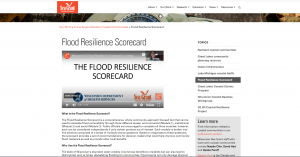 Flood Resilience Scorecard
The Flood Resilience Scorecard is a comprehensive, whole community-approach focused tool that can be used to evaluate flood vulnerability through three different lenses: environmental, institutional, and social.
Wisconsin Department of Health Services
University of Wisconsin Sea Grant Institute
Decision Tool Resources
Search this collection of decision tools relevant to coastal issues in Wisconsin.